Move away from the pollution and noise while still living in the heart of the city by getting a home in the Green Gold Corridor of Chembur.
A 2.5 square km stretch, the luxurious corridor is situated just a few minutes away from the Eastern Freeway and Eastern Expressway. With over four parks and its close proximity to schools, shopping malls, offices, and healthcare facilities, the Green Gold Corridor is the perfect place to live with your family. Its prime location cuts down your daily commute to office and allows you to spend more time with your family.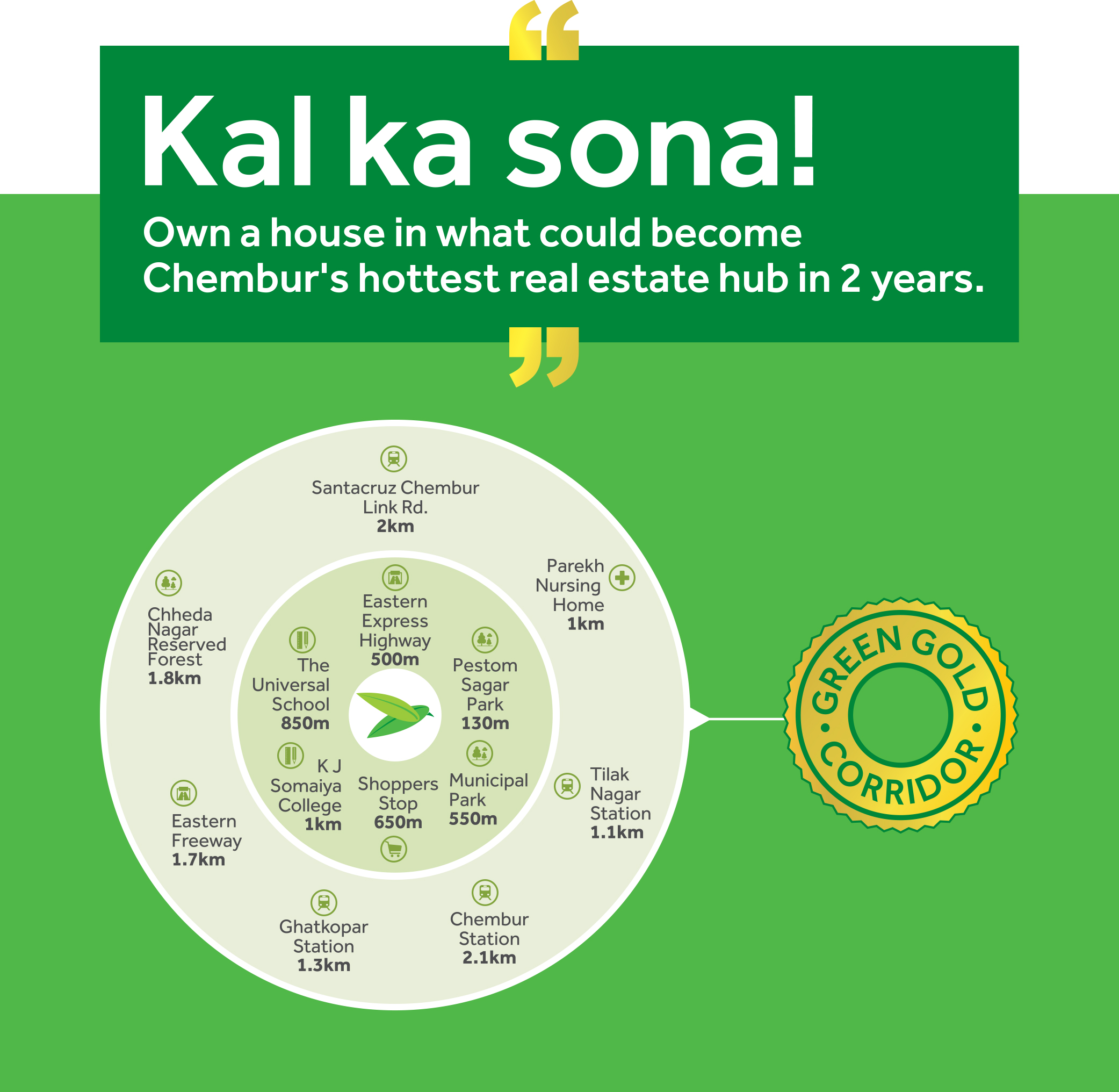 Living in the Green Gold Corridor has its own benefits
The best part about the Green Gold Corridor is that everything is right in your vicinity and you would never have to waste time being stuck in traffic. The Eastern Freeway and Eastern Expressway are just a few minutes away, while the railway stations are within the 2km radius. To add to it, there are also many renowned schools and hospitals nearby.
Mumbai is a big city, and yet, finding good and maintained parks for your kids to play is a challenge in itself. The Green Gold Corridor stays true to its name by offering over four different parks where you can play with your kids and create new and beautiful memories.
In the Green Golden Corridor, the Baya Company is building apartments as part of the the Baya Junction project where security is at the centre of everything. From video door phone in every home to CCTV surveillance on every floor and a panic switch which immediately alerts the security, we have gone out of our way to ensure you can have your peace of mind while living at the Baya Junction.
Having a house in the Green Golden Corridor of Chembur means you would never have to waste time finding a parking space. With multi-tier designated parking spaces, getting back to your house after a long day at work will never be a problem.
Chembur has turned into a hotspot for home buyers
In just a few years, Chembur has seen a lot of change — Both in terms of real estate and quality of living. While a decade ago, people might have opted to get a house in Andheri, now Chembur has become a more preferable area for families to settle down because of its great connectivity with both South Mumbai as well as the western suburbs.
It isn't even slightly surprising that property prices in Chembur have gone up by over 15% in just the last three years while in the rest of the city they have remained more or less stagnant.
Chembur is not only just 15 minutes away from Bandra Kurla Complex, but it is also the starting point for India's first monorail. The Ghatkopar metro station is also nearby, which makes Chembur's connectivity even better. In fact, the first double decker flyover in the country also connects Chembur to SantaCruz.
As a result, Chembur has not only become a great place to live, but the property in the area also has a huge potential to appreciate in value, which is why it has become a hotspot for home buyers.
The Baya Company is exclusively developing apartments as part of the Baya Junction project right in the Green Golden Corridor in Chembur. With greenery, beautiful parks, and world-class amenities, the residential complex has everything you would want from your dream home.