Vilas Kharche
Founder & Managing Director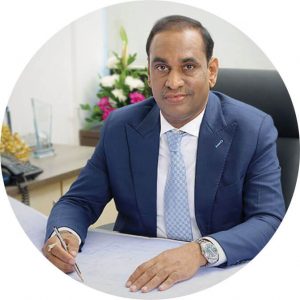 One of the most trusted figures in real estate world, Mr. Kharche specialises in redevelopment projects.
He has been instrumental in formulating key industry policies and amending various acts as well as regulations while working with government bodies. He has played a key role in the creation of over 1,00,000 affordable housing units at strategic locations.
Mr. Kharche has over 25 years of experience and has held senior positions with the Brihanmumbai Municipal Corporation (BMC), the Thane Municipal Corporation and the Slum Rehabilitation Authority (SRA). He has an MBA in Real Estate & Construction from Reading University, UK, and a B.E. Civil Engineering Degree from Shivaji University, Maharashtra.
After joining the private sector, Mr. Kharche has provided strategic advisory services to some of the largest developers in Mumbai. Currently, he is in discussion with an international delegation to evaluate the redevelopment model in their continent.
He is also a consultant to the Mumbai Metro Rail Corporation. His role involves providing an action plan for ensuring in-situ rehabilitation of affected persons and to assist in implementation of the said plan.
Always a hands-on person, Mr. Kharche strongly believes that the promoters of the company should be thoroughly involved in the execution of a real estate project.
Anil Deshmukh
Partner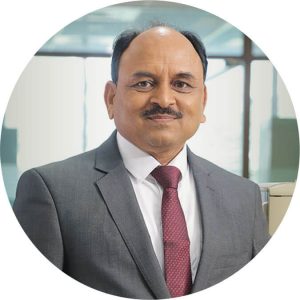 The real estate arena is rapidly changing, both in terms of construction technology and in opportunities. Mr. Anil Deshmukh has the all-important role of identifying opportunities and new areas of growth. His holistic understanding of market dynamics and an intricate knowledge of construction enable him to chart the future course of the group.
Mr. Deshmukh is a staunch believer in multi-tasking. He supervises the group's operational and construction activities across the length and breadth of the state.
A renowned specialist in infrastructure development, he has over two decades of hands-on experience in heading and managing medium to large-scale real estate and infrastructure projects.
Before he became an integral part of the group, he had a rich experience of undertaking construction contracts for roads, bridges and several other infrastructure projects across the nation.
Rohit Kharche
Director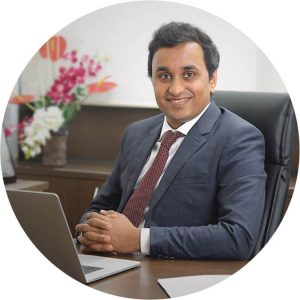 Mr. Rohit Kharche is a multi-faceted personality who adroitly manages several key responsibilities of the group company. He heads the crucial departments of construction and infrastructure and concurrently manages the execution of several projects by providing strategic expertise on matters of critical importance.
He is also responsible for formulating solutions on all technical matters ranging from appropriate sequencing of work processes, to optimum usage of materials, manpower and equipment. As the youngest director of the group, he is imbued with a creative drive that enables him to lead, develop and implement new-age marketing and sales strategies to bolster the group's market presence. His vision also drives the company's online presence, editorial design and the effective deployment of the company's publications.
Mr. Kharche takes a keen interest in legal matters and in the redevelopment policy of the government. This enables him to expand, modify and improve the organisation's procedures, standards and policies, and thus make a difference.
In addition to being a certified Commercial Pilot, armed with a degree in Civil Engineering from Purdue University, USA, Mr. Kharche also has a Masters in Economics. He truly embodies the spirit of cross-functional prowess.
Core Team
Mr. Chaitanya Parate
Vice President
A prolific Chartered Accountant and an alumnus of IIM Ahmedabad, Mr. Chaitanya Parate leads the strategy, business development, investor relations and legal functions of The Baya Company.
His core responsibilities include keeping a keen eye on the profitability and feasibility management of various redevelopment and SRA projects, new business development, raising capital and management of investor relations.
He has a rich experience that spans a decade in the fields of real estate, banking and consulting, with companies like Richa Group, Unitech-Shivalik JV, Tech Mahindra and Axis Bank.
Mr. Abhishek Patil
DGM, Finance and Accounts
Finance is the lifeblood of business and Mr. Patil leads the efforts to keep the company in the pink of health by heading the finance and accounts functions. He has a rich exposure to global best accounting practices by virtue of his learning horizon that spans the world – CS from ICSI, India; ACMA CGMA from CIMA, UK, and Diploma in International Financial Reporting (DipIFR) from the ACCA, UK.
His eight years of experience in the real estate sector and work stints at PwC and Trafigura, make him the right person to man the post.
Mr. Arvind Semwal
Sr. Project Manager and
EA to Mr. Vilas Kharche, MD
Mr. Semwal is the maestro who knows the pulse of the business as he has the responsibilty to co-ordinate with the team members from various functions to assist our MD execute the priority tasks. In addition, he also oversees and manages a number of projects.
An alumnus of IIM Kozhikode, his 10-year-long career has seen him in the fields of operations, operations strategy and project management functions. Before joining The Baya Company, he was employed with BSNL, Alcatel and Reliance Communications.
Mr. Vivek Kharche
DGM, Property Affairs
Managing the property affairs of a real estate entity is a challenging task that requires perseverance and foresight. A task tailor-made for Mr. Vivek Kharche, who has enriched himself with an earlier exposure to sales operations and project management functions.
Backed with an MBA from the International Institute of Planning & Management (IIPM, Pune) and work experience at LALS International Ltd. (UAE) and SJF Group of Companies, Pune, he has what it takes.